The S-valve for placing difficult concrete and high wear resistance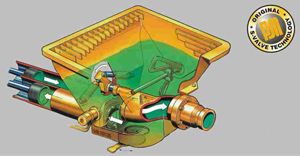 Minimalmass forces, quiet operation and quick switch over makes S-valve the ideal transfer tube for trailer and truck-mounted concrete pumps.
Superior in operation
Putzmeister concrete pumps with the S-valve are continually setting new world records in vertical and horizontal delivery. Wherever extremely stiff and highly abrasive mixes are encountered, this S-valve system is used,

The low-lying agitator that is driven on both sides keeps the mix homogeneous and guides the concrete directly in front of the cylinder openings without sucking in air. This results in a high filling rate, a continuous flow of concrete and a high delivery performance.

The automatic ring optimally seals the system.This prevents the bleeding out of concrete fines and effectively reduces the danger of blockages.

The optimised hopper shape reduces concrete settlement and residual concrete. The hopper is easy to clean: residual concrete is simply emptied via a cleaning valve. The line is cleaned by conveying a sponge ball in a reverse pumping mode.

Truck-mixers have optimum access due to the minimum projection of the reduction elbow. Feeding the pump using severaltruck mixers overlapping does not pose any problems.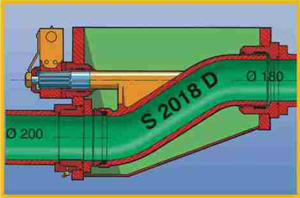 Thick-walled S-valve for difficult concrete and high delivery pressure
Superior with regard to maintenance and service
The automatic ring compensates for wear.

All parts of the S-valve are easy to change: the hopper remains mounted when the few wear parts require replacement

Hydraulic and switch-over cylinders are outside the concreting area and remain clean. The delivery pistons are centrally lubricated for a safer and longer service life.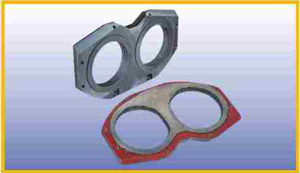 High-quality wear components ensure machines have a long service life
Superior with regard to quality
The S-valve that is manufactured out of thick-walled special cast steel is designed for difficult, abrasive concrete. The automatic ring results in an even wearing of parts andtherefore prolongs service life.

The hard-chrome layer or hardened delivery cylinders assures a long service life of the pistons and the cylinders.

Wear-intensive areas are especially protected by the chroming, face welding or hardened inserts.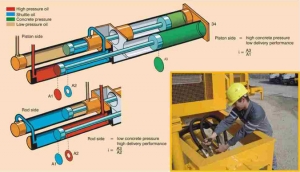 Performance and pressure adapted to every situation
Surface ratio between the delivery piston and the hydraulic piston determines the hydraulic performance. Output and concrete pressures depend on this ratio.

With rod side pressurization of the hydraulic system, the transmission is greater compared to the piston side pressurization. This translates into a high delivery performance at lower concrete pressures.

With piston side pressurization, higher concrete pressures are attained with lower delivery performance.
Rotary Distribution System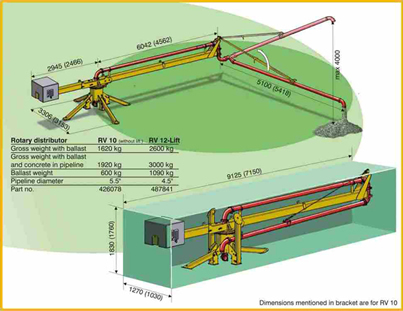 Rotary distributors are suitable for all those situations where distributing concrete directly from truck-mounted concrete pumps and stationary booms runs up against technical or economic limitations
For large areas and decks which cannot be reached or fully covered by a truck-mounted concrete pump.

For decks and pillars where the use of placing booms is too costly and time consuming.
The RV 10 rotary distributor, for example, is ideal for large areas and decks. Large areas of up to 320 m2 can be covered from one fixed location.
The site crane can be used to reposition the RVs so that areas of practically any size can be accessed for concreting. It is only necessary to lengthen or shorten the delivery line or delivery hose which supplies the rotary distributor.
With the RV 12-lift, surfaces, walls and pillars to be concreted can be reached which are up to 4m higher than before. To adjust the height, the final arm can be reaised with a hydraulic or manual pump.
Delivery lines and accessories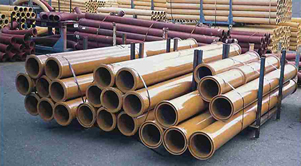 Standard components for delivery lines are available as a rule from the store
The economical conveying of concrete does not only make great demands on the concrete pump but also on delivery lines and accessories.

E & G Concrete Pumps offers the right delivery line systems in an optimum quality for every job.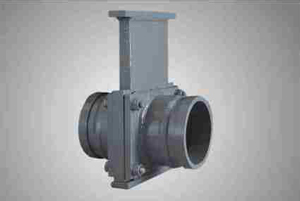 Shut-off valve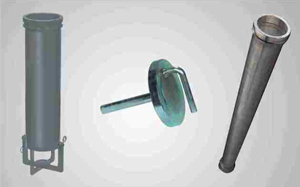 Pipeline accessories (L to R) : catching basket, cleaning lid, reducer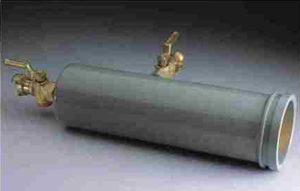 Cleaning connection for cleaning the delivery line with air or water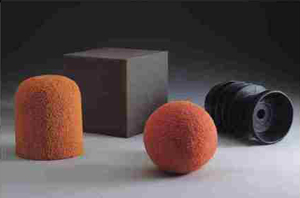 Cleaning accessories from left to right: sponge cleaning plugs, sponge cubes, sponge balls, cleaning plugs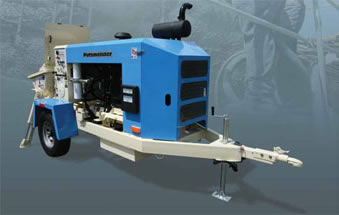 Putzmeister Thom Katts (TK 40)
Putzmeister's big boom expertise comes down to size with the TK 40 Trailer-Mounted Concrete/Shotcrete Pump. This rugged workhorse can handle aggregate up to 1-1/2″ minus. The product is ideal for a wide variety of concrete placing jobs and also works will with shotcrete and pumping structural concrete.
More Information, Diagrams and Specifications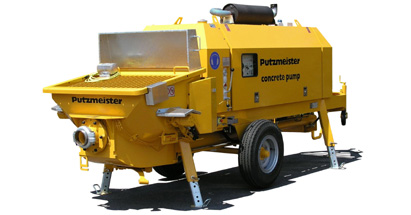 Putzmeister – Static BSA 1407 D
The concrete pump for medium sized job-sites. Reliable VHS control, easy use, simple maintenance. For pressure up to 106 bar, output up to 71m³/h.
High-quality wear resistant components for service-life

Reduced noise emission with closed doors. Emission values certified for USA and European standards.

CE-conform

Ample space between hopper and frame – service friendly

Central, well-arranged control panel

Good accessibility for changing pistons
More Information, Diagrams and Specifications